THE Comprehensive Program to help you

"Make A Difference Now That Lasts For Generations"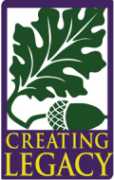 When you reach a place in life where a focus on making a meaningful impact in the world becomes a motivating force, this is the resource you need to make it happen.
You know you're there when you simply want to make something better in the world in some way, for someone – beyond merely developing an estate plan for your "stuff" (assets and property).
Despite my own decades in business and law, I had all the same questions you have – and learned them by the seat of my pants developing an amazing legacy project called the Garlo Heritage Nature Preserve. What I've learned is that there are endless possibilities for how this can come about – depending on your interests and passions, resources and advisors, and proper long-term structuring.
Creating Legacy:



7 Steps to Designing Your Personally Meaningful Contribution
for the People, Places and Things You Care Most About

Define • Dream • Discover • Design • Plan • Build • Celebrate!
The "Steps" are not necessarily a linear process — for you, some steps may need to come before others, and you may have portions of certain steps already in place. More specifically, what each part of the program covers is this:
Step One ~ Create the Vision: to begin, you must have an end in mind, something to work toward. This takes knowing yourself, identifying what you value, knowing who you care about, and defining what you want to do and where you want to make your impact.

Step Two ~ Gather the Resources: this creative step focuses on what you already have to contribute to the project, what else you need, and who you want and need to be involved.

Step Three ~ Begin the Design: armed with your dreams, ideas, interests, values, identified beneficiaries, experiences, background and initial resources, this is where the creative process begins to take shape.

Step Four ~ Develop the Infrastructure: this is where the project begins to actually take shape and building the foundation begins. The old saying 'failing to plan is like planning to fail' applies at this step, so we cover the basics of laying out a successful implementation plan, which becomes your roadmap or blueprint.

Step Five ~ Bring the Project to Life: based on your definition of legacy, your dream for seeing it come to fruition, the identified resources you have and need, the design and plan, here's where you choose the most effective structure, add strategic business development and marketing design so others know what you're up to, and develop operational systems to keep things going consistently and sustainably.

Step Six ~ Harvest the Rewards and Keep It Going: when your legacy project is operational, you get to experience the joy of it, and the appreciation and gratitude generated by those it helps and inspires to contribute to it. Then, this step invites you to engage in succession planning so you can transition operations smoothly to others, and exit-planning so you can step away without disconnecting – playing the part you want to play as long as you want to play it, knowing your legacy will live on for generations.

Step Seven ~ Build the Bridge: depending on where you are when you start on this legacy building journey, you may have to re-group and redefine other aspects in your life as you move into where you're going with your project. This is best accomplished by undertaking a legacy full life plan to design your ideal life that takes into consideration what's most important to you in the following areas Vocation, Health, Finances & Estate, Leisure, Family, Friends, Personal Development, and Community Service (the area Legacy falls in).
I created this program to provide a truly comprehensive and personal look at legacy planning and get into action in these 7 key areas.
It includes a focus on estate planning and planned giving – more traditional financial approaches – and provides you the opportunity for a broader and deeper exploration into who you are, who and what you value, your unique gifts and resources (financial, intellectual, emotional & spiritual), your creative capacity and how to put that altogether into something tangible, beneficial and sustainable …
The Creating Legacy program is THE comprehensive resource that can help you "Make A Difference Now That Lasts For Generations." It's the roadmap I wished I'd had – with it, you can create the blueprint for your own legacy. Want to know more?
I'm always happy to talk with you about making the world a better place … in the unique way only you can!